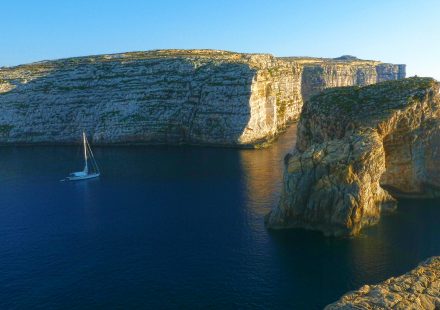 One of the greatest advantages of a holiday in Gozo must be the carefree Gozo weather.  For most part of the year the weather is mild. This means that overall there is less hassle if you're planning your vacation!
Summers are hot and dry and often the island does not get any rain during the summer months.  Whilst this might give the idea of barren summer fields, this is absolutely not the case as the Gozitan farmers tend to their fruit crop with care and this yields bountiful watermelons, melons and a variety of other produce.   During the day, the temperature can reach high levels (more than 30 degrees Celsius) and often peaks in August. In the evening, however, the heat abates.  Overall Gozo enjoys cooler temperatures than Malta because every location is in closer proximity to the sea.  Summer evenings are truly uplifting because after the long hot days, there is nothing better than relaxing in the breeze.
The first rain heralds autumn
Gozo weather means, first autumn storms are a godsend because they wash away all the dust of summer. After the first rain, everything looks like it has just received a fresh coat of paint.   Autumn is a great season in Gozo. The hot days of summer give way to the warm days and this allows better enjoyment of the outdoors.  Up until Christmas, the weather is still balmy and usually there is little hint that winter is literally days away.   With autumn, one also expects windy weather and this sometimes impacts the ferry crossing between Malta and Gozo especially when the Northeast wind prevails.   Once January is here, the temperature does take a dip, and January and February are the coldest winter months. Most days are still sunny and daytime temperatures are rarely lower than 12 degrees Celsius. Nights can be chilly.  Snow is a rarity, but  during  winter the island gets the occasional hail storm.
March heralds spring and in Gozo, spring must be one of the best seasons. The lush green countryside, the mild weather, the sunny days all set the tone for having a great time outside. The sea starts getting warm again and by Easter time, some would already be venturing into the sea for their first dip.
If you're planning a holiday in Gozo, don't worry about the Gozo weather! As long as you plan a wardrobe of layers you'll be comfortable.    Without doubt you need to protect yourself from the UV rays in the hot scorching months and in the winter season a waterproof warm jacket is all you need to throw over your regular outfits.   As you go through the day, you will soon realise that it gets pretty warm very quickly in Gozo so layers are a good wardrobe strategy to take you through the day.
Book your flights now and get in touch. We'll be glad to plan a memorable holiday with you in Gozo!