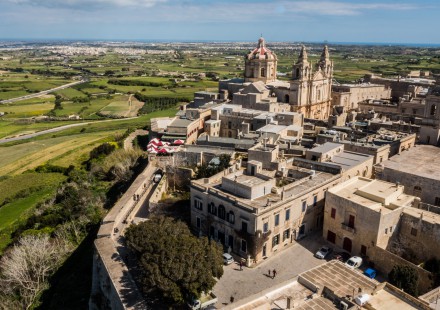 Malta's Top Tourist Attractions
While holidaying in Gozo one certainly must visit Malta. Malta is packed with attractions and places of interest. The beautiful island of Malta is well known for its' remarkable history, prehistoric temples and cultural heritage. There is so much to see and do in Malta and due to its size it's easy to get around and visit Malta's top attractions in just one day.
Here's a quick guide of Malta's top attractions
The 'silent city' of Mdina
Mdina was the old capital of Malta, and with its narrow streets, few inhabitants and beautiful views over the island it is truly a magical village of outstanding historical treasure.
The fascinating St. Paul's Grotto
The heart of Malta's Christian heritage. According to the legend, this grotto was the place where St. Paul resided after he was shipwrecked on the island of Malta on his way from Crete to Rome to face trial.
Marsaxlokk, fishing village
One of the prettiest little harbours in Malta with numerous brightly coloured fishing boats called 'Luzzu', a traditional Maltese fishing boat, seafood restaurants, a little artisanal market and fishermen arranging their fishing nets on shore.
Valletta, Malta's Capital
Valletta is abundantly rich in sites to see and explore, intriguing historical buildings around every corner, breathtaking views over the three cities and its stunning vivid Waterfront where the cruise liners cast anchor.
The Blue Grotto in Zurrieq
Located on the southern coast of Malta, one of the natural wonders and most famous attractions you can find on the islands. Don't forget to bring your camera and enjoy a little boat ride with magnificent impressions.
Rotunda Dome, Mosta
The third largest rotunda dome in the world. The Mosta Dome is one of the most impressive churches in Malta. With its tranquil streets to shop and stroll around invites this typical Maltese Village for a great stop on the route.
Malta Temples
UNESCO World Heritage Sites, all of which reflect Malta's rich past. A must to see and a must to pre-book well in advance is the Hypogeum of Ħal-Saflieni dating back to round 3000 B.C. , a prehistoric underground temple with more than 7,000 individuals found.
Discover the most beautiful and outstanding tourist attractions in Malta in just one day! We gladly organize private Malta Day Tour.  To receive further information, kindly contact us here!