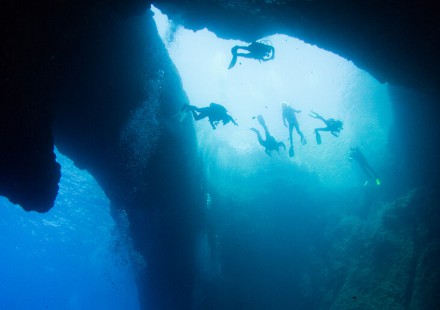 Gozo Diving Holidays
Gozo Malta is renowned for being one of the best holiday destinations for scuba diving, not only in the Mediterranean, but in the world. The underwater visibility here is excellent with warm temperatures and stunning underwater scenery.  Experience scuba diving in Gozo and discover Gozo's hidden tunnels, picturesque caves, colourful coral reefs, lively wrecks, pillars, and so much more.
One great thing about Gozo being small in size is that there's no hassle of a long journey to the dive sites. Gozo offers a remarkable number of dive sites and every year even more are explored. It can either be a shore dive or a boat dive that you will go to; there is never more than a 20 minute journey. And, should it be windy on one side of the island you are only minutes far away from an alternative dive site! Could it be any more convenient? Now let's not forget the abundance of marine life found in Gozo, full of amazing colours with so many different species.
We work together with a professional and well experienced diving partner offering a variety of comprehensive Gozo Diving Holiday packages. No matter what scuba diving qualification you may have beginner or experienced diver Gozo is the place for your next diving holiday! Our professional diving partners also offer a number of diving courses including the world's largest recreational diving PADI.
If you are a big scuba diving fan you must visit Gozo! One of the many reasons tourists from all over the world visit Gozo Malta is to go scuba diving. Gozo's crystal clear waters and beautiful underwater scenery make it an unforgettable scuba diving experience. What are you waiting for? For Gozo Diving Holidays contact us here with your enquiries, we'll be glad to arrange all your holiday and travel needs for your Gozo scuba diving holiday.