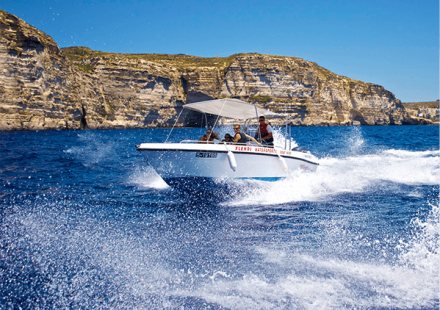 Gozo Boat Tours
Gozo, the small island in the Mediterranean Sea, is the perfect getaway paradise. Some say, you can hardly see the tiny island on the map, what could one possibly do while on holiday in Gozo? Gozo, despite its size, offers plenty of exciting things to do; Spas, water sports, quad tours, abseiling, rock climbing, segway tours, country walks, and the list goes on… But my personal favourite is Gozo & Comino boat tours. When visiting Gozo, it is a MUST to discover the islands through a boat tour!
A boat trip around the islands of Gozo and Comino gives you the opportunity to soak up the Mediterranean sun and relax while sightseeing the island's exquisite sites; picturesque bays, tranquil caves, and the impressive cliffs Gozo has to offer. Together with an established local partner at Xlendi Tourist Services we organize full or half day Gozo Boat Tours. While on tour you'll visit:
– Wied l-Għasri (Ghasri Valley) – a remarkable narrow secluded bay between high cliffs
– Xlendi – a former fishing village with striking cliffs surrounding the little bay
– The Azure Window & Fungus Rock in Dwejra – the rock formation here is impressive!
– Ramla Bay – Gozo's largest red sandy beach
– Marsalforn – the largest seaside resort with spectacular rocky coastline
– Daħlet Qorrot, Nadur – a wonderful tranquil bay located in the north east side of Gozo
– Blue Lagoon, Comino – considered by many as the best beach found in the whole Maltese Archipelago, the crystal clear turquoise water here absolutely stunning!
Enjoy the scenic places of Gozo, imposing cliffs and the crystal clear waters on a boat trip. Truly an unforgettable experience for visitors of all ages! We'd be glad to arrange your Gozo boat tours, for further information contact us here