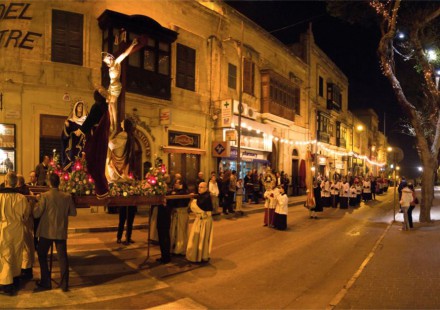 Easter in Gozo
Visit Gozo this Easter and participate in a varied program of activities! Gozo is a very notably place to visit during the Easter period with numerous religious events taking place in different villages across the island. At this time you can visit exhibitions by various artists, concerts, processions, along with other activities of faith and tradition.
Join artistic exhibitions like re-enactments of the Last Supper were actors will portray Jesus Christ sharing his final meal with his Apostles before his crucifixion during the Holy Week and Easter period in Gozo.
Enjoy a considerable selection of sacred music concerts with the participation of talented Choirs singing tunes of the Holy Week. Some parishes host very dedicated drama groups which are founded specifically to organise and stage pageants during the Holy Week.
Participate in the traditional church- hopping to seven holy premises which is conducted by the catholic community across the world on 'Maundy Thursday'.
Gozo has some spectacular, detailed and comprehensive processions involving hundreds of people with various biblical figures wearing falcon. The processions pass through the roads of the village with accompaniment band marches which have become a main tourist attraction for Easter in Gozo.
Easter Sunday is the actual day of celebration for the Risen Christ. All churches are open with recurrent bells ringing. It is a catholic tradition to celebrate this special occasion with a sumptuous Easter lunch together with all the family, giving chocolate eggs to the children and eating Gozo Malta's special Easter cakes 'Figolli'.
The activities of the Holy Week and Easter in Gozo are primarily of religious background. However, the dedication and devotion apparent during these times is moving even to the non-religious citizens and visitors.
Gozo is a very spiritual place to visit during time of the year. Book your Easter Holiday on Gozo this year and experience the traditions and cultural heritage close to the action!
Photo courtesy: Visit Gozo